Apartment for sale in El Medano
Date added: 05/10/21
Post Updated: 2021-05-13 10:13:53
Bedrooms: 2
Bathrooms: 3
Floors: 3
Area: 249 m²
Description
Nice apartment for sale in the surfers favorite city El Medano.  Spacious three floor apartment with a large terrace. The total size of living is 249 square meters.The apartment have two bedrooms and three bathrooms. The beautiful ocean is right next to the house. The complex have a swimming pool where you can also enjoy the sun.Apartment for sale in El Medano is available for you! El Medano is around 11 minutes drive of the airport.
El Médano is a town in the municipality of Granadilla de Abona, on the island of Tenerife. A place of strong winds, it has been the site for various windsurfing competitions and championships. El Médano is still one of the world's best windsurfing/kitesurfing locations, with three different windsurfing spots. The town is situated near the largest natural beaches of Tenerife, the Playa Grande and the Playa La Tejita. Between the beaches is La Montaña Roja, a volcanic cone that is a protected natural reserve. It's a great place to relax and wind down.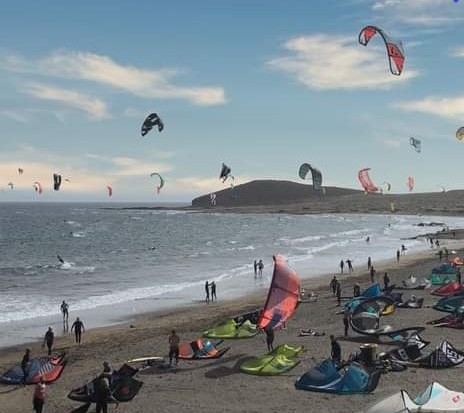 It is a reference place for kitesurfing lovers, but also for those who love other activities in nature, such as diving and snorkelling. El Médano is a village that will certainly not leave you indifferent.
Don't hesitate to  Contact us  
Phone: (+34) 602 677 547