Bar-Café in Los Gigantes
Description
Bar-Café in Los Gigantes for sale. The bar is located in the famous square of Los Gigantes. There are many tourists all year round. There are many different events on the square. Due to this, the location of this bar is very great for business.
The inside area of the bar is 47 square meters. It is equipped with two toilets for men and women. Fully equipped kitchen, and bar counter. You can put 10 tables on the terrace. And 4 more tables in the shade. The terrace is 12 square meters. There are 3 tables inside the bar. Around the bar counter there are 10 seats. The bar has no monthly utility bills. The annual IBI tax is 250 eur. Los Gigantes is a lovely village with a beach and marina within walking distance.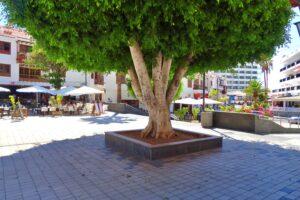 Bar-Café in Los Gigantes waiting for a new host.
There is interesting info about Housing price index of The National Statistics Institute.
If you are looking for a specific home or property and want us to help you locate it, we are sure we can find it for you. We collaborate with most of the agencies and professionals in the sector.
Don't hesitate to   Contact us 
+34 602 677 547